By Gary D'Atrio
You're planning the latest print project for your company, but have you thought much about how the job will get bound? Let's explore your bindery options.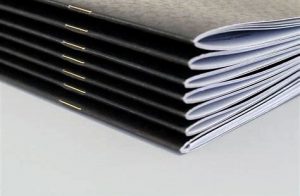 For a brochure with few pages, the most inexpensive way to go is saddle stitching. It is a method of binding in which the sections of a publication are inserted inside each other and secured through the middle fold with wire staples. Many brochures, catalogs and magazines are bound this way. A disadvantage is that the closed or open brochure will tend to "pillow" out instead of laying flat.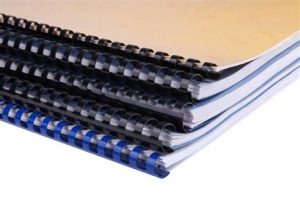 The second option is comb binding. This method uses round plastic spines with 19 rings or 21 rings and a hole puncher that makes rectangular holes. Comb binding is sometimes referred to as plastic comb binding or spiral comb binding. The plastic comb is available in a variety of color and sizes to fit 12 to 200 pages. Although it isn't a very elegant solution, it is cost effective and allows the book to lay flat when open.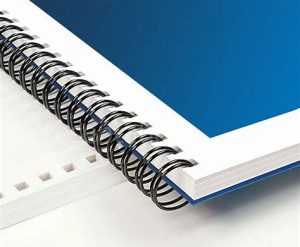 The next option is wire-o. With this binding method, punched pages are inserted onto a "C" shaped spine and then a wire closer squeezes the spine until it is round. Documents that are bound with wire binding will open completely flat on a desk and allow for 360-degree rotation of bound pages. The wire-o material is available in several colors and metallic finishes to complement the printed piece. Plastic coil binding is similar, although it is a bit bulkier than wire-o and is also available in various colors.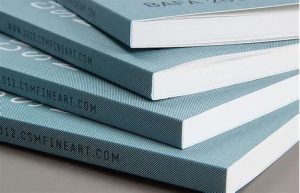 The fourth option is perfect binding. This is the most expensive of the four methods. But it is ideal for pieces with a large number of pages. The pages are bound together with an adhesive and wrapped in a cover of heavier paper stock with a square, flat spine. The result is a very professional presentation.
At the start of your next project, contact the knowledgeable staff at Newark Trade to discuss the best binding option to fit your image and budget.