by Joe Tallman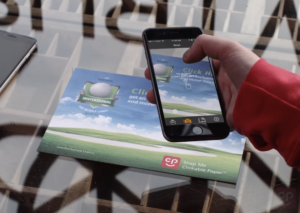 Clickable Paper is a powerful, interactive solution that combines print with digital by using visual search image recognition software. It is an exciting addition to multi-channel campaigns for attracting attendees to participate in events. Some examples of printed materials that can be made Clickable include manuals, statements, magazines, brochures, welcome kits, and posters. It also includes analytics to improve campaign responses and return on investment. Clickable is a free mobile application that can be downloaded or it can be skinned into an existing mobile application.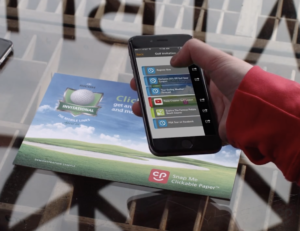 Additional services offered with Clickable Paper include gamification and photo sharing tools.
Stamp Rally encourages attendees to tally up Click captures to fill up their card for a chance to win a prize.
Slot Machine allows users to bring up a digitized version of the classic casino game, offering a chance to win prizes.
Frame allows users to take pictures with a custom frame for the event and post the pictures to social channels like Facebook, Twitter, and LinkedIn.
Here is a link to a brief video on Clickable Paper
https://www.youtube.com/watch?v=cUXHi1tIZdY