Print Works!
Print is part of a larger content marketing strategy
Having a diverse content strategy allows audiences to view and retain information in the mediums they trust the most. Print can work in unison with other digital platforms to create multi-channel marketing campaigns that achieve optimum results.
In fact, the higher level of trust and tangibility audiences experience with information provided in print helps strengthen other marketing platforms like mobile, social, and email. Utilize each channel's strength to drive audience engagement and gain customer loyalty. Match each channel by the role they play to their place in the sales funnel with a full court tactical plan.
Target your audience with print and digital cross-pollination, such as:
Variable Data
Augmented Reality and QR Codes
Social Media
Email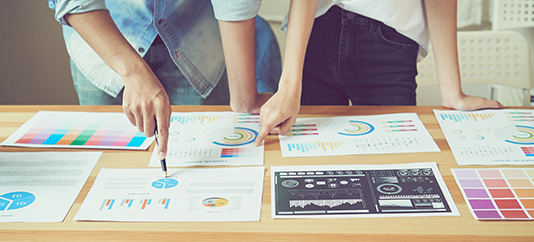 Why Print Still Matters
For many of our clients, print continues to fulfill a critical role by providing additional touch points with customers. Make no mistake; we live in a digital world that's fueled by customer engagement across multiple channels. Combining print advertising with digital is far more effective than digital campaigns alone. Businesses gain higher awareness when they present messages through a combination of print and online media. Consistent messaging across multiple marketing channels and platforms means greater presence and brand equity.
But there are more practical reasons that print is at the top of the marketing funnel. Consumers gain a closer connection with print marketing because they must engage with it on a physical level. With print marketing you can create more personal brand experiences. You can design exactly what captures your audience's attention with color, photos, die cuts, folds, textures and other tactile features that get consumers to interact with your brand.
Adding print to your digital marketing campaign can help revitalize your program and increase its efficacy.