By Paul Carracino and Matt Olivas
Each year for the last 15 or so years, Newark Trade has taken the opportunity to design and print a promotional holiday calendar. It's a small gift for our clients as a "thank you" for their business that also shows them a sample of our creative design, print, and fulfillment capabilities.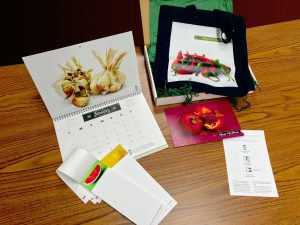 For our 2015 calendar project titled Enticing your Appetite we decided to do something a little different from previous years. The focus was to design and print a curated collection of high-resolution images, and combine them with a newly released augmented reality (AR) technology.
Newark Trade's on-staff designer and photographer collaborated to produce the calendar and decide on a theme: an (AR) cookbook.
In order to bring this vision to life, the team used common and exotic fruits and vegetables as the photographic subject matter. The produce was carefully composed for artistic appeal and combined with the AR menu displays in real time, using the specific ingredients from the images for each month's recipe.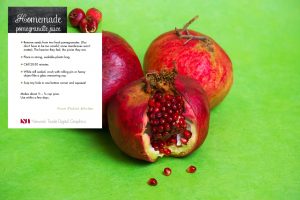 The technology is rather simple: a viewer scans the monthly picture with their smartphone using the AR Layar app, and a virtual menu appears on the user's screen. Newark Trade employees offered their favorite recipes that helped bring the photos of ingredients to life.
To plan for the photo shoot, Newark Trade ordered about 20 different color sheets of custom paper from a local art supply store. The sheets had bright vivid colors with subtle shades and flecks thoughout and served as excellent backdrops for each piece. The cost for these supplies was minimal and had amazing visual impact.
For the subject matter, we visited the local Whole Foods and bought a wide variety of beautiful, exotic, and colorful fruits and vegetables. Among our finds were bright red and green peppers, stunning whole cloves of garlic, ripe strawberries, onions, apples, and oranges. We also found lemons, watermelons, Asian apples, and wide variety of mushrooms.
The items were carefully posed and arranged in still life, against different colored backgrounds which helped accentuate and compliment the portraits, adding to their visual impact.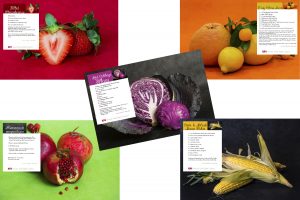 In total, over 1,250 images were captured. Each image was carefully examined, compared, and pared down to the 15 final images to be used in the calendar. These images were then adjusted for white balance, color correction, shadowing, hue and saturation, contrast, spotting, and final retouching to prepare for the final design.
Distribution
In total, Newark Trade printed 300 final calendars along with several other additional pieces for the project, including a Holiday card, an instruction sheet, notepads with additional shots from the photo shoot, and a beautiful jet black tote bag with the calendar cover picture printed on the bag. Our fulfillment department assembled all 300 packages for delivery.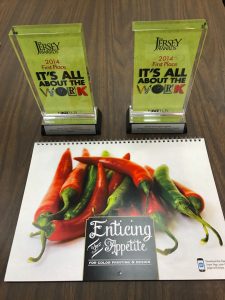 Newark Trade received awards in two categories from the The New Jersey Ad Club: one for Photography and the other for Calendar Design.