By Patty Jurado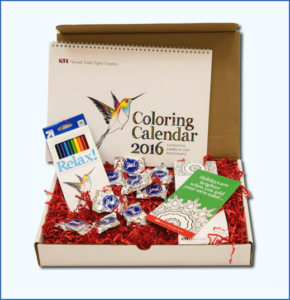 Our 2016 Coloring Calendar was right on target for the coloring craze. The concept was rolled out in May 2015 based on all the articles we were reading regarding popular interests and sales, so we took the idea and incorporated it into our annual calendar.
Rounding up the most graphic and interesting pictures taken by our staff, converting them into illustrations, considering the right paper for coloring and how each picture would look in black and white, were some of the steps Newark Trade addressed in the production. Coloring pencils were included with the box sent to our clients so they could begin the fun immediately. A custom-made label to match our theme finished off the package. Adding to the fun, a coloring contest was added for our customers to share their monthly creations on our website.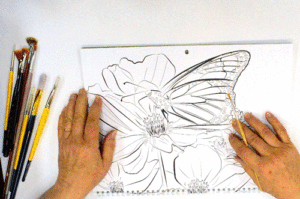 We also developed short GIF videos, demonstrating and reminding our clients to submit their colored pages for a monthly contest via e-blast. The calendar was also available on our website as a PDF to share with anyone visiting the site.
Our clients responded with enthusiasm upon sending in their entries. Funny stories were shared. For instance, one client had already colored in her calendar but her children wanted to color some pages too, so she printed more copies from our website. She was able to enjoy her own artistry and the kids were also entertained. Here is a link to download your own copy of the calendar to color: 2016 Calendar
Staying current and adding fun to our promotional materials have always been a winning combination for Newark Trade with awards year after year from the NJ Ad Club for calendar design. We would love the opportunity to strategize and design your next promotional piece.