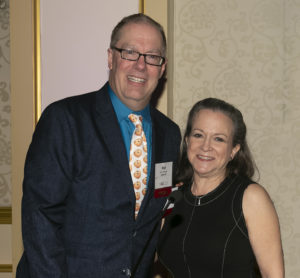 At the Jersey Awards ceremony, held at The Grove in Cedar Grove on Wednesday, June 5, Robin Kantor, Business Development and Design Specialist for Newark Trade was elected to the NJ Advertising Club's Presidency for the 2019-21 term. Robin has been involved in the Ad Club for over seven years. She started by working on the Jersey Awards Committee and joined the Board of Directors two years later. Her term as President starts in July 2019 and runs for two years.
Robin got her BFA in Communications Design at Pratt Institute in Brooklyn, worked at various positions in NYC, such as Fairchild Publications and National Benefit Life Insurance where she was an Assistant Art Director of their in-house Art Department. Later she was the Art Director/Graphic Designer for PIP Printing in Verona, which she co-owned with her husband, Michael, for over twenty years. She has been a part of the Sales Team at Newark Trade for over nine years.
Among other organizations she has been involved with, she was a member of the PIP Printing National Image Steering Committee, is a Past President of the Verona Chamber of Commerce, and is currently a member of the Morris County Chamber of Commerce's Women in Business and Women in Golf Committees.